If you're trying to light a warehouse, manufacturing plant, office building or other large space, you may be grappling with whether to choose T5 vs. T8 light bulbs.
When you compare T5 and T8 bulbs, there are a few important things to keep in mind. We'll explore the difference between T5 vs. T8 lighting, how it's used and why WarehouseLighting.com is the place to find the best quality light bulbs for the job.
Defining T5 and T8 Light Bulbs
To understand your lighting choices, let's first discuss what the letters and numbers mean in this type of lighting. The "T" refers to "tubular," which is the shape of the bulb, while the number represents a fraction in eighths of an inch.
This means a T5 bulb is tubular and is 5/8" in diameter, while a T8 bulb is also tubular and is 8/8" (meaning 1") in diameter.
Are the Lengths of the Bulbs Comparable?
T8 bulbs come in standard 2-, 3-, 4- and 5-foot lengths. Comparable T5 bulbs are slightly shorter than T8 bulbs. Make sure you check your existing fixture carefully because the two types of bulbs are not interchangeable.
Lumen Output Capabilities
Another factor that separates T5 vs. T8 bulbs is the lumen – or "light output" – capability. For example, a standard 4 foot, 54-watt T5HO linear tube will usually yield around 5,000 lumens per tube, whereas a standard 4 foot, 32-watt T8 tube will offer approximately 3,000 lumens per tube.
What Type of Fixture Are You Using?
You'll typically find T5 and T8 light bulbs in linear high bay lighting, vapor tight high bay lights, and strip light fixtures>.
When considering this difference between the two tube options, it is important to keep in mind the lighting application requirements of your space.
The lesser wattage T8 would be the better choice if you do not need as many lumens since it offers lower lumen and watt consumption. If you need higher lighting levels, the T5 might be ideal for your situation.
Color Temperatures
When choosing linear bulbs of this type, there are several other factors you need to consider. For instance, both T5 and T8 tubes are available in various color temperature choices.
This plays just as big of a role as the lumen output. For example, suppose you are considering fluorescent tubes for use in an office setting. You will naturally want to select either a lower lumen output, a warmer color temperature, or perhaps both, depending on the area. Using excessive lumen output or a cooler color temperature in an office can lead to complaints.
We generally recommend a color temperature of 5,000 to 6,500 Kelvin in an industrial or warehouse setting. But in an office setting, something like 4,000 to 5,000 might be more appropriate.
Once you have decided on your color temperature and lumen output needs as well as your budget, deciding between a T5 or T8 bulb solution will be much easier to navigate.
Price Gap
T5 bulbs tend to be two to three times more expensive than T8 bulbs — making cost an important consideration. However, T5 lamps produce just as much (or more) light in a smaller area as the T8 while using significantly fewer bulbs. This means more T8 fixtures are needed to produce the same amount of light.
Even though T5 bulbs cost more than T8 tubes, they are lower maintenance and produce long-term cost savings for your residential, industrial or commercial space.
Fluorescent Lamps or LED Light Bulbs?
T8 and T5 fluorescent tubes may be cheaper initially, but LED tubes are more cost-effective in the long term. The benefits of an LED light bulb vs. fluorescent bulbs include:
More Energy Efficient: If you replaced all the bulbs in your office with LEDs, you could conservatively use 60% less power to light up your facility. That's because the energy-saving technologies used to produce LEDs have far outpaced that of fluorescent linear tubes.
Longer Life Expectancy: LED bulbs last two to four times longer than fluorescent lighting.
More Cost-Effective: While you will spend more money upfront on LED bulbs, you'll ultimately make it up in energy savings and lower long-term maintenance costs.
Better for the Environment: Unlike linear fluorescent tubes, LED lights don't contain any mercury. Fluorescent lights must be handled carefully because mercury is harmful to the skin and can contaminate the environment.
Instant On: With LED bulbs, you don't have to wait for the flickering to stop. Also, you can turn them on and off all you want – frequent clicks of the switch do not shorten an LED bulb lifespan.
Difference Between T5 & T8 Low Bay Fluorescent Lighting Fixtures
For your low bay ceilings, our video will help you know the difference between T5 and T8 low bay fluorescent lighting fixtures.
Difference between T5 & T8 High Bay Lighting Fixtures
T5s and T8s vary in length, but what is the difference? With a T5 high bay light, you get a better performing option that will last for years when compared to the T8 option which doesn't quite measure up fully to the T5 benefits. Learn about the two main differences between T5 & T8 High Bay lighting fixtures.
When you consider the longer lifespan, energy efficiency and maintenance cost-benefit, you'll see why more and more contractors, plant managers and business owners are making the switch from T5, T8 and other fluorescent bulbs to LED light bulbs.
Warehouse Lighting offers light bulbs that provide you with better efficiency than other fluorescent bulbs, help you save on energy costs and show remarkable performance differences. For 16+ years, we've worked with contractors, building owners and business leaders to illuminate their space effectively.
Whether T5 or T8, Warehouse-Lighting.com Has Your Lighting Solutions
Now that you've had an opportunity to compare T5 and T8 light bulbs, we invite you to shop Warehouse-Lighting.com to find excellent quality lighting products for your project.
SHOP STRIP LIGHTS
You May Also Be Interested in These Articles...
---
Consider Watching These Videos as Well...
---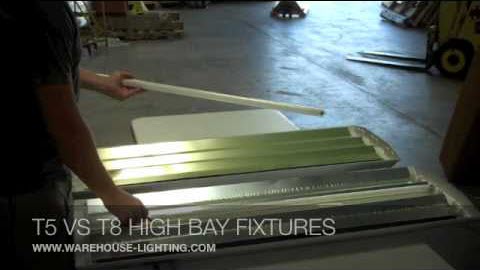 Difference Between T5 & T8 High Bay Lighting Fixtures
When choosing lighting solutions, it is always helpful to have a basic understanding of the different elements of lighting. When it comes to the difference between T5 and T8 high bay light...
Watch Video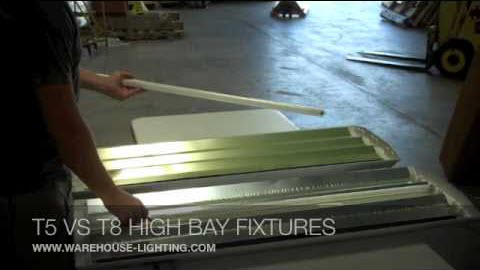 T5HO vs T8 Lighting Fixtures
This is a frequently asked question. I will explain size of lamp (bulb), wattage of each lamp, lumen output, energy savings and equivalent lighting fixture (how many lamps are equal to the same out...
Watch Video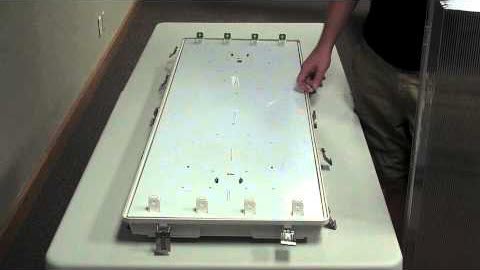 High Bay Vapor Tight T5/T8 Lighting Fixtures
When it comes to finding the right lighting solution, you should first consider if it is an indoor or outdoor area. The area will always determine the lighting solution options. With our h...
Watch Video